Custom ADA Sign Design & Installation
Have confidence in an experienced sign company who can offer assistance in designing and producing ADA signs that is compliant, and consistent with your brand.
We accommodate your organizations vision, while meeting requirements the requirements for an ADA  compliant sign. We will consult with you from start to finish to produce practical, attractive signage.
We can install your signs to the exact ADA standards.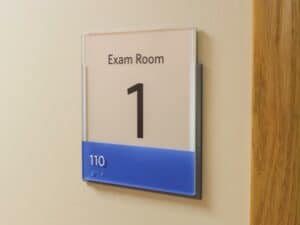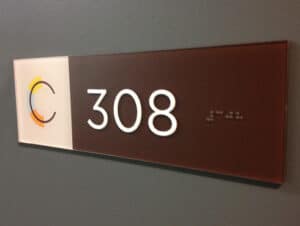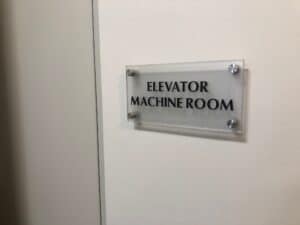 Do you need custom ADA signs?
Not all signs need to be ADA compliant. Building addresses, directories, parking signs and rooms that change function for instance are not covered by the ADA. Permanent rooms and spaces in business properties do need to have ADA compliant signs.

The guidelines have been revised several times and are far from simple. There are rules for the height of signs relative to the floor, distance from doors, luminous markings (varies by state).
With fines of up to $75,000 for violation, ADA signage is not something you want to get wrong.


What is the ADA?
ADA (Americans with Disabilities Act) regulations make it easier and safer for people with disabilities to navigate their way around commercial buildings. ADA compliant signs help disabled people to identify signage with braille, bold lettering and high contrast, among other things.
Common Questions About Custom ADA Signs
Do I need to update my signs sine the ADA rules updated in 2012?
You do not need to make any changes to your signs if they already comply with the 1991 standards. If your facilities are updated then you will need to update your signs to the latest regulations. For advice on this give us a call.
Can I add a logo to my signs?
Yes you can! We have designed custom ADA signage with logos for our clients in the past.
Does an ADA sign have to include braille?
No, not all signs need braille or tactile lettering. These include all outdoor signs, building addresses, directories, parking signs and temporary signs (for use of 7 days or less). ADA signage that designate rooms that are considered "permanent" must have braille, as must exit signs, refuse signs and signs identifying floors in buildings.
Can an ADA sign have a number instead of a room name?
In some circumstances yes. Rooms that change function can be identified by numbers or letters, however, rooms that are not likely to change function such as restrooms, kitchens and elevators should be identified with a name.
Can you add braille to signs?
Yes we can.
Where Are ADA Exit Signs Required?
In short, anywhere there is an exit. ADA regulations state that any "means of egress" must be indicated."


Got questions about producing custom ADA signage for your business? Whether you'd like advice on existing signs, the design process and compliance with the ADA, contact Archer Sign Service, serving Milford, CT and all of New Haven County.