ADA Compliant Sign Design & Installation
Have confidence in an experienced sign company who can offer design assist in designing and producing signage that is ADA compliant, and consistent with your brand.
We accommodate your organizations vision, while meeting requirements of ADA. We will consult with you from start to finish to produce practical, attractive signage.
We can install your signs to the exact ADA standards.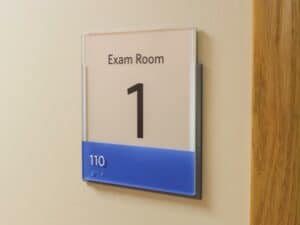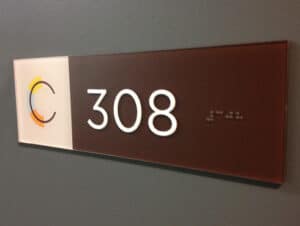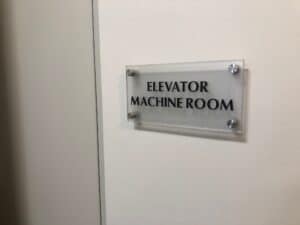 Do you need ADA compliant signs?
Not all signs need to be ADA compliant. Building addresses, directories, parking signs and rooms that change function for instance are not covered by the ADA. Permanent rooms and spaces in business properties do need to have ADA compliant signs.
The guidelines have been revised several times and are far from simple. There are rules for the height of signs relative to the floor, distance from doors, luminous markings (varies by state).
With fines of up to $75,000 for violation, ADA signage is not something you want to get wrong.
What is the ADA?
ADA (Americans with Disabilities Act) regulations make it easier and safer for people with disabilities to navigate their way around commercial buildings. ADA compliant signs help disabled people to identify signage with braille, bold lettering and high contrast, among other things.